Thanks to your generous donations, I've raised $26,333 so far for the
Lance Armstrong Foundation
Five years ago, I was diagnosed with non-Hodgkin's lymphoma. It was pretty scary at the time, but after two rounds of chemotherapy (1999 and 2002) and significant changes to my lifestyle (lower stress, better diet, much more exercise), I am now feeling great and doing fine.
One of the most significant changes I made was to start cycling regularly, and I have to admit I have become quite passionate about it. I first became serious about cycling when I joined the Leukemia & Lymphoma Society Team-in-Training to train for 2002 El Tour de Tucson century ride, a hundred mile bike ride around Tucson, AZ, and raise money for this worthy charity. Iíve continued to stay involved with Team-in-Training as a mentor and now as a cycling coach.
Over the past year, Iíve learned more about another charity organization that is worthy of your support. The Lance Armstrong Foundation was started by the five-time Tour de France winner after his bout with testicular cancer. Lanceís success after cancer has been a real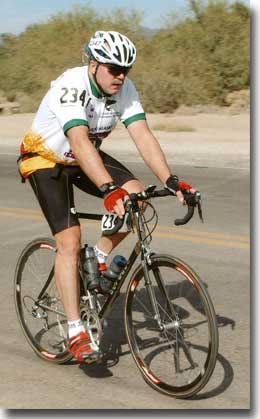 inspiration for me, but what interests me about his foundation is its charter. Instead of focusing solely on the initial treatments of cancer, LAF is working to identify and improve cancer survivor services and facilitate the delivery of those services Ė helping those with cancer live longer and healthier lives after diagnosis.
| | |
| --- | --- |
| | To help raise money for the Lance Armstrong Foundation, raise awareness for cancer survivors, and celebrate five years since being diagnosed with cancer, I decided to tackle a much bigger challenge than a century ride. This summer (2004), I cycled across the entire United States, starting in Everett, WA, on the Pacific |
coast near where I live, and ending in Williamsburg, VA on the Atlantic coast. I joined a group of other cyclists on a supported tour that took us 26 days to cross the 3400 miles. To put this in perspective, the Tour de France, considered one of the most challenging athletic competitions in the world, has 1/3rd less miles in almost as many days and includes two rest days. Over the course of this tour, I turned the crank of my bicycle more than one million times!
My goal was to raise at least $20,000 for the Lance Armstrong Foundation, and thanks to the generosity of my friends and family, I've now exceeded that goal. There is still time to help - the fundraising deadline is August 27, so please help me by making a generous donation. Your donation will go directly to the Lance Armstrong Foundation to help in their efforts to improve the lives of cancer survivors. I have paid for all costs associated with my cycling event.
On behalf of all those whose lives are affected by cancer, I thank you for your support of this worthy cause - with your donation we can make a positive impact on the lives of all cancer survivors. Jay Torborg